These are some of the nice things our customers have said. If you had a good experience working with us and would like to share just send us an e-mail.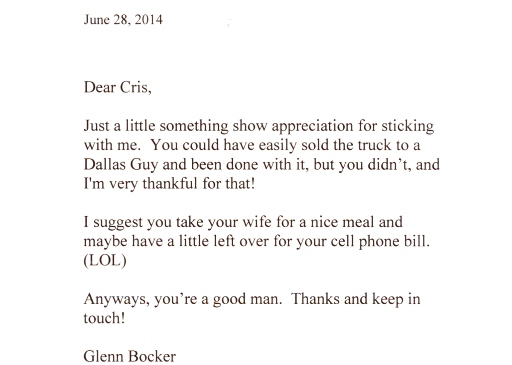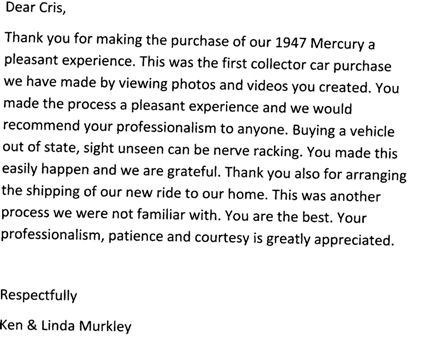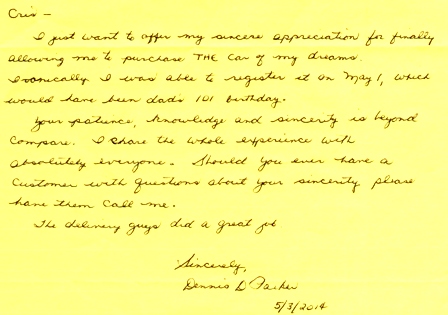 Purchasing a car without actually seeing it "in person" is not something I normally do. Chris at Classical Gas Enterprises made every aspect of my recent purchase from my first phone inquiry thru the actual delivery, one of the easiest transactions I have ever made. I appreciate his honesty and quick response time in returning my phone calls to answer my many questions. The car was exactly as advertised and just what he said it was. I would definitely recommend anyone to check out what Classical Gas Enterprises has to offer. Thanks to Chris, I look forward to many years of "living the dream."
-RUSSELL WEAVER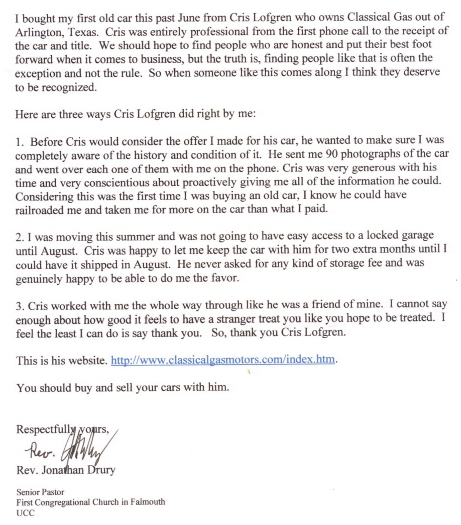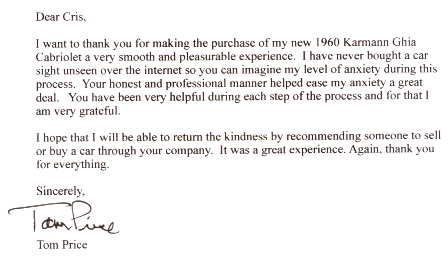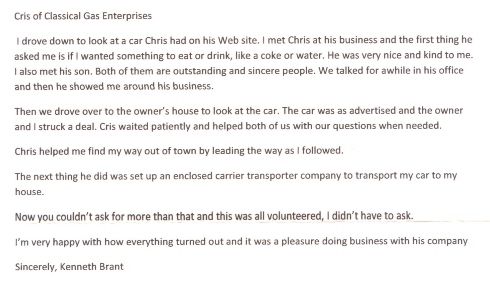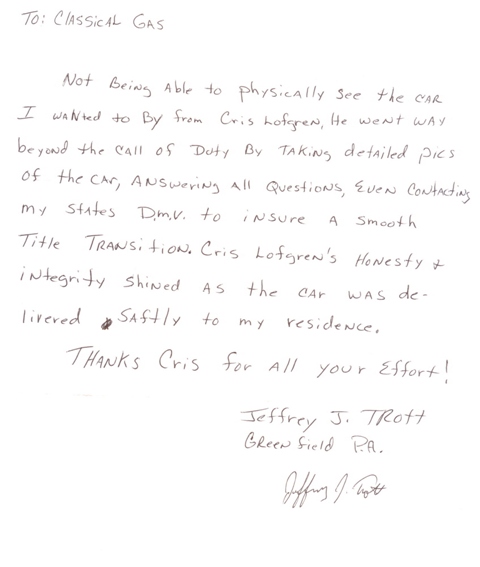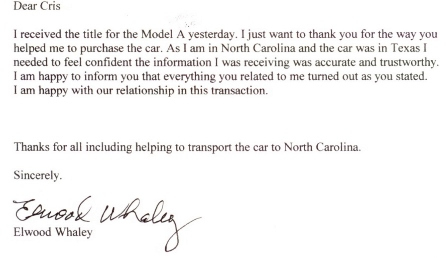 December 29, 2011
To whom it may concern:

I recently purchased a car through Classical Gas Motors with the help of Cris Lofgren. The process was smooth and pleasant from start to finish and I will not hesitate to work with Cris again as either buyer or seller. All information I requested about the car was provided quickly and cheerfully so a personal inspection and test drive were arranged. The meeting proceeded on schedule and the owner proved to be as helpful and up-front about the car as Cris. The car also proved to be exactly as represented so a deal was struck on the spot. The rest of the transaction (e.g., funds and title transfer, delivery, etc.) went quickly and exactly as promised.

If I had to choose a single word to describe my experience, it would be "smooth". If I had to choose a single word to describe Cris Lofgren and his business practices, it would be "professional". I could only hope all my car buying experiences could be handled so honestly and gracefully.
Thanks Cris --- nice job and nice car!
Jim in Texas
Cris,

Just want to thank you for your work in helping me find a car that appears to be just right. You certainly have displayed a real sense of professionalism in all of our contacts with each other, thinking of the customer first and yourself last. The car arrived with no surprises and your photo's showed that. I would certainly recommend you to my friends without any hesitation, as a matter of fact I would like to meet you at some time and look forward to that.
Again , THANK YOU.
Bill Scriver, from Farmington New Mexico
Dear Cris Lofgren of Classical Gas Motor Company
Hello Cris just want to send you this letter in regards of a 31 ford 5 window coupe that I purchased from you. I seen your ad in Hot Rod Hot Line via internet, I was pleased to say that your service was excellent the way you called the car was the way I received it, no hiding surprises .I was kind of skeptical buying a vehicle over the internet without seen the vehicle as you were way to far for me to come see it, I also want to thank you for holding on to the vehicle in a safe place while the company that I hired came to pick it up. Thank you for all the pictures you sent me before I bought the vehicle and after it was loaded onto the trailer, your help was greatly appreciated and I will defiantly pass the word out to any of my friends that are interested in buying a vehicle in the states. It was great doing business with you Cris once again thank you
Lou Cappelli
Canada
Cris,
Jo and I wanted to thank you for your efforts at selling our 34 Gatsby.
We have been trying for months to conclude a sale on our unique vehicle thru private sale as well as multiple attempts thru eBay. We have obviously not been successful until we placed our pride and joy with your firm.
Within a very short time, you not only listed it with care but had a potential buyer in less than 30 days. That potential buyer ultimately bought the car, and has since sent a note to us that he loves what he bought. We are certainly pleased with the result and I can certainly recommend you to anyone who is interested in selling their classic car.
I would be happy to talk to anyone who wants my opinion on your efforts, your honest opinion on the vehicle for sale, and your diligence in concluding what can be a very positive experience if they listen to your advice.
Thanks again,
John & Jo Rayder
Ft. Worth, TX
Cris: I want to thank you for the professional way you handled the purchase of the Gatsby. I had reservations about buying the car sight unseen but your pictures and video helped me make the decision to make the purchase. I would highly recommend your firm to anyone who is planning on buying a vehicle from you.
Sincerely.............................................Len Collins
It seems like a real nice ride and by the way your website is the
MOST USER FRIENDLY SITE that I have come across in years. Your webmaster is to be congratulated--kudos kudos

Respectfully,
harp
Cris,
I just wanted to say what a pleasure it has been working with you. You have been the consummate professional. Always available, responsive and had great patience with our requests. If I ever have the opportunity I will recommend your services without hesitation. Keep up the good work!
We pray great success for you and your family into the future. Be well.
Stay safe.
David & Diana Victoria